Custom Japanese Calligraphy
With your Custom Japanese Calligraphy order, you will work directly with Master Japanese Calligrapher Eri Takase to create exactly the calligraphy you want.
When your order is placed, Master Takase will create the first sample set where we focus on the meaning and translation but also show different fonts and layouts and give specific examples of how the translation affects the design.
We then get your feedback and, based on your feedback, create the next sample set. We proceed to create samples, get your feedback, and create new samples until the design is exactly the way you want. This normally takes two or three sample sets to get just right. And we try to have new samples ready to show you the next business day.
And we welcome questions. With the translation, we are happy to provide you with as much documentation and independent references as you require to be completely happy with the translation. Sometimes this is easy, and sometimes it requires a lot of work for us, but we want you to be completely satisfied so we will always gladly make the effort.
Once the final design is approved Master Takase will create the final art which normally takes 1-3 days.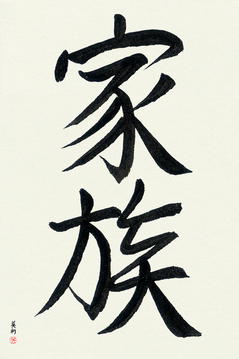 Custom Japanese Art
8″ x 12″, Unframed
$135
Custom Japanese Art – Unframed
We recommend ordering our art unframed and then framing it yourself locally. The Japanese paper we use is special and is perfect for Western-style framing and so may be framed normally.
By ordering the art unframed you will save on packaging, shipping, and insurance. Framed art means shipping glass which adds a significant expense. All money that you could put into the framing!
On the other hand, framing your art locally can take weeks. We have one framing option but it can be completed as soon as the ink fully dries. So you receive your framed art as quickly as the unframed art.
Unframed Options
8″ x 12″ ( 20.3 cm x 30.5 cm)
12″ x 18″ (30.5 cm x 45.7 cm)
15″ x 22″ (38.1 cm x 55.9 cm)
24″ x 36″ (61.0 cm x 91.4 cm)
We are also happy to cut the paper to a specific size. Just ask and we will do our best to accommodate your specific requirements.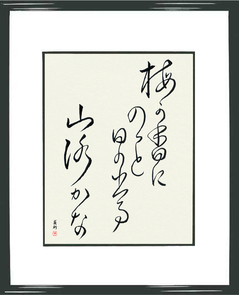 Custom Japanese Calligraphy
16″ W x 20″ H, Framed
$360
Custom Japanese Art – Framed
As mentioned above, we have the one framing option shown here. While we always recommend ordering the art unframed, we understand there are circumstances where having framed art quickly is important. And because framing art locally often requires several weeks, we offer a single framed option which we mail as quickly as our custom unframed art and our custom Japanese scrolls.
Framed Options
16″ x 20″ (40.6 cm x 50.8 cm)
The advantage of offering only a single size and style is that we always have these materials on hand and so we can frame the work with no delay. That is, we mail your framed art in the same time as the unframed art. There is no delay for ordering the art framed.
And we use excellent materials. The glass is conservation non-glare glass. Sumi-ink does not fade over time but the conservation glass protects the paper and mats. For our framed art most of the extra cost goes into providing top framing materials.
The majority of the remaining cost goes into the shipping materials. Our framed art is double-boxed which means the art is surrounded by bubble wrap, placed in a box which is then surrounded with more packaging material and then all this protected with a double thick outer box. And we always include insurance at no extra charge.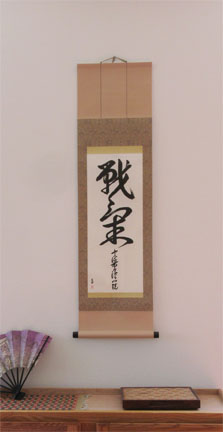 Custom Japanese Scroll
12 1/4″ W x 43″ H
Japanese Scroll
$220
Custom Japanese Scrolls
Our Japanese Scrolls are really special and we are very proud of them. We have worked with our scroll maker in Nara, Japan for more than a decade and are the only ones in the United States using these special scrolls.
Scroll Options
12 1/4″ W x 43″ H (31.1 cm W x 109.2 cm H)
18″ W x 72″ H (45.7 cm W x 182.8 cm H)
Creating custom scrolls is significantly more involved than our other offerings so we wrote an entire page dedicated just to the custom design and creation process that we use for scrolls. These scrolls are both a treat to work with and a treat to see.
The scrolls have silk borders and the materials are layered so that when displayed the scrolls hang straight and not warp over time. This is important. And the paper takes the ink just right so subtle brush strokes come out just as expected. I love these scrolls.
If you are interested in learning more about our scrolls and the process we use, please do visit our Custom Japanese Scrolls page.
If you have any questions or if you would like to discuss a design please contact me or email me at Eri@Takase.com.