Romantic Japanese Calligraphy
Express your love with beautiful, romantic Japanese calligraphy. Here I have collected designs that are perfect for lovers to gift to one another. Each is personal and intimate and are one of a kind reminders that will last a lifetime.
Below we have options for both custom and non-custom Japanese art. All are personally created by Master Takase at the time of your order. This is an individually created work of art – not mass produced and certainly not a print. Each work is personally created by Master Takase and proudly bears her seal and signature.

For the custom art, you will be working directly with Master Japanese Calligrapher Eri Takase to create a unique work of art that is tailored to you and your taste. We work with you on all aspects of the design including the translation, font, and layout. We do this by showing you preliminary samples via e-mail that we discuss and change as needed. In this way, you will see the final art before it is created and have input into the design.
Takase Studios has both native English and native Japanese speaking translators and we are happy to provide you with dictionary references and to work with you until you are completely comfortable with the translation as well as the design. We want you to be as happy with the meaning as you are with Master Takase's beautiful art.
All art is on hand-made Japanese paper that we import ourselves directly from the paper-maker in Kochi Japan. This is a special paper that is ideally suited to Western-style framing and we offer several unframed options and one framed option. We also offer several designs on beautiful Japanese scrolls which we import from Nara.
And each work can usually be created and mailed within 1-3 business days. Beautiful art without the wait!  And the art is affordable with prices starting at $105 for 8 x 12″ non-custom art and $135 for 8 x 12″ custom art. This is an amazing price for original and custom art.
Romantic Japanese Calligraphy – Custom Art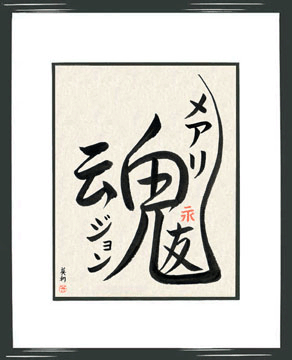 SoulMates
魂の友
16″ W x 20″ H, Framed
$320
Soul Mates
There are several ways to translate "soul mates" to Japanese. Here we use an original design that is based on the translation of Soul 魂 (tamashii) and Mates 友 (tomo). Master Takase created this original design by combining the phrase tamashii no tomo into one simple elegant design.
Each design also has two names that are translated using katakana – this is the standard way names are translated to Japanese and the character are like English letters and simply represent the sound and have no meaning. So you don't have to worry about unintended or bad meanings.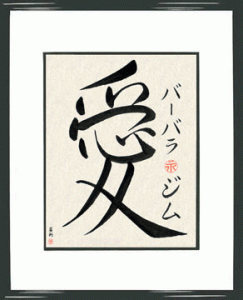 Love
愛
8″ W x 12″ H, Unframed
$135
Love
Love in Japanese is 愛 (read ai)
This is a semi-custom design where we work with you to add your names in Japanese to the art. When you order please let us know your names and if the pronunciation is at all in question please do let us know how you pronounce your name.
Romantic Japanese Calligraphy Art
These original designs by Master Takase are available unframed in the three sizes: 8 x 12″ (20 x 30 cm), 12 x 18″ (30 x 45 cm); and 15 x 22″ (38 x 55 cm). We would also be happy to cut the paper to size (charging the original paper size) should you need a smaller size.
Each work is personally hand-brushed and signed by Master Takase at the time of your order. The art is on special hand-made Japanese paper that we import directly from the papermaker in Kochi, Japan and is perfect for Western-style framing. We do encourage our clients to order the art unframed and have it framed locally.
We also offer one framed option that is 16 x 20″ (40 x 50 cm); with a black metal frame and double mat (black inner, white outer) and appears just like the images shown here. Framed art arrives ready to display.
Japanese Scrolls, called kakemono, are beautiful works of art hand-lettered by Master Japanese Calligrapher Eri Takase. Each scroll is a unique work of art individually created when your order is placed and is created and shipped within 1-3 days. The scrolls are made of all Japanese materials including Japanese paper and high-quality silk borders. They arrive ready to hang and are designed to last generations. Japanese Scrolls are available in two sizes: The medium scroll is 12 1/4 W x 43″ H (31 x 109 cm); and the large is 18″ W x 72″ H (45 x 182 cm).