Custom Japanese Scrolls
Our Custom Japanese Scrolls, called kakemono, are true works of art.The process we use to create these custom scrolls is streamlined and works well, we have been doing this for well over a decade now with thousands of satisfied customers, but it is also is labor-intensive for us as we want each and every order to be exactly right and the only way to do this is to give personal attention to every detail.
We import our high-quality scrolls directly from the maker in Nara, Japan and offer two standard sizes: The Medium Custom Japanese Scroll is 12 1/4″ W x 43″ H and is $220 and the Large Custom Japanese Scroll is 18″ W x 72″ H and is $395.
Whether displayed traditionally, or custom framed, Japanese Scrolls are beautiful and affordable works of art. Scroll down to learn about the process we use to create these beautiful custom scrolls.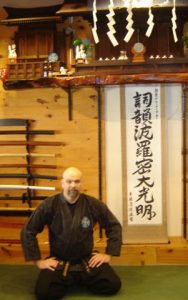 Step 1) Your Custom Japanese Scrolls Order
We are happy to answer any and all questions before you order but to begin work we really need the order. This lets us know what we will be creating (the scroll size), what the scroll is to say (the description), any time constraints and any special requests that we need to know about.
Step 2) The Translation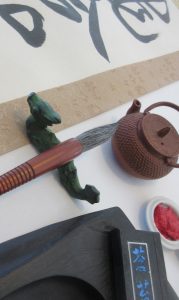 Once we receive your order, the first task is to decide on the Japanese to use. Sometimes this is simple, but I have found over the years that many times it can be quite involved.
For example, we can receive an order for a school name which sometimes is well-known or it may be a new school in search of a name and looking to us to help with choosing a name. Other times we get an order for a Japanese haiku which sounds like it should be easy but haiku can often be written in different ways and so these need to be thoroughly researched and explained. Still, other times we get quotes of Japanese sayings in English that need to be researched – a classic example was a quote attributed to Miyamoto Musashi (see Miyamoto Musashi's Book of Five Rings Quote) which turned out to not have been said by him at all. In this case, we ended up translating the English quote to Japanese. Another classic example involves names to be translated into Japanese – names can have many different pronunciations – and we work with you to get this exactly right. We have done extensive research on names and our catalog of names in Japanese is hands-down the best on the Internet.
And many times it is not only important that the meaning is translated properly but also the voice and tone. A poem should be rendered poetically, an English haiku should be translated as closely as possible using the rhythm of haiku. Prose, rules, and dojo kun should have a formal tone. And so we work with you not only so that the meaning is accurately conveyed but also so that the work sounds right in Japanese.
Finally, there are often space considerations – if a single line or two lines are desired, then we may need to abbreviate the translation to make sure the final art will have the desired look. This is why we include options for the translation in the first sample design set.
Step 3) The First Sample Set
The translation and how the art looks are intertwined and they often need to be adjusted together. This is why, when appropriate, the first sample set will show a few different translations, layouts, and fonts. Normally this is a set of four designs.
Here is a good example of showing two different translations and two different layouts and fonts for the first sample set. Sample 1 has staggered lines and sample 2 aligns the top of the lines. Sample 1 is lightly semi-cursive and sample 2 is more to the cursive side. These samples were shown after significant explanation and work on the translation. Sample 1 was the closer translation but had significantly more characters. After seeing this the client decided the closer translation was more important and so for the next set we focused on the fonts using the translation and layout of sample 1.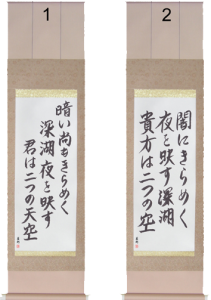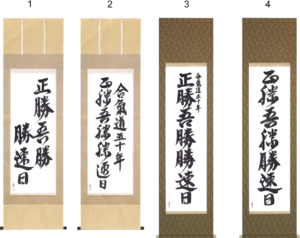 In some cases, the client is focused on a special look and they want to see how the design looks on both the medium scroll and the large scroll. We are happy to do this.
These samples of Custom Japanese Scrolls include options for both the medium and large scrolls (they are not to scale). One can immediately see that seven characters fit nicely on the large scroll  (samples 3 and 4). The same phrase is written as a single line on the left-side of sample 2 and you can see how much white space would be needed if this alone were used. Not a bad thing, but a consideration. One option is to then split the phrase into two lines as in sample 1. From this one can see that for a single vertical line design, the medium size scroll works best with three or four characters. The large scroll six or seven characters.
Step 4) The Second Sample Set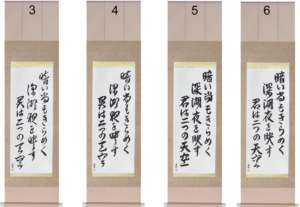 At this point, we usually have the translation and the layout decided. If not then we would go back and offer more samples so the overall design is just about right. In most cases, the second sample set focuses on the font.
Going back to the poem from the first set, the client wanted a flowing design and so was more interested in cursive and semi-cursive fonts. So I focused on these two doing two cursive font samples and two semi-cursive fonts.
From this, an immediate choice popped out to the client and we were able to create the scroll based on this choice. Which would you choose?
Notice that I hand-brush all of the samples. My graphic designer then scans my original designs, cleans them up a bit, fits them on the background template, documents the design, and then converts these to an Adobe PDF file so that the design can be viewed on any device. This is a labor-intensive process, but we do it this way because it simply produces the best results.
Generally, we reply with a new sample set the next business day. Sometimes it can take longer, especially for particularly difficult translations. But our goal is to have samples ready the next day.
Step 5) Creating Your Custom Japanese Scrolls
Creating the scroll takes 1-3 days from when the final design is approved.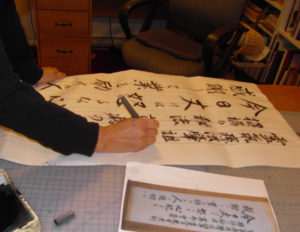 The Final Mockup
With the final design in hand, the next step for me is to create a larger sketch of the design so I can see the detail and go over the layout and balance of the scroll as a whole. During this stage, I am also planning the brushing of the scroll and making sure that the entire work feels right to me.
The sample shown here was a particularly difficult scroll as I was asked to reproduce a work that has its own unique style. So here I am making a special effort to study the sample though as always, I use this time to memorize the work.
When I am done with this process I will be able to see the final art on the blank scroll before me. This is a throwback from my competitive math competitions in school where I was taught the skill to literally see a working phantom abacus in mid-air that I could manipulate with my mind. In the same way, I see the final art on the scroll (I talk about this in detail in California Reiki Interview).
Brushing The Art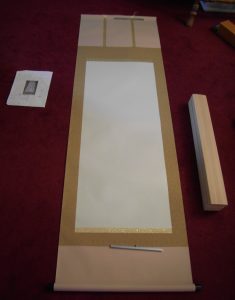 The act of brushing the calligraphy continues with the preparation of the ink. For large scrolls, this process can take just short of an hour. But I often deal with very expensive paper or, in this case, scrolls and so this part of the process is critical to prepare myself for the one opportunity to get it right.
In preparing the ink I am seeing the calligraphy on the paper and practicing the strokes in my mind. When the ink is just right, so am I, and I brush the work without hesitation – as if I had brushed it dozens of times.
Japanese Calligraphy is more of a performance art as every movement can be seen on the paper. There is no touching up, no do-overs – it has to be done right. So if even the smallest mistake is made, not only is a very expensive scroll ruined but I would need to start from the beginning … getting the design back in my head so I can see it, preparing the ink while practicing the strokes in my mind.
Fortunately, because I take care, this almost never happens. Even when I was creating scrolls for submission to national competitions I typically created a single final work.
Leaving the Art to Properly Dry
This was an extra special scroll to be presented as a gift and so it has a kiri presentation box that I also named and brushed. Here is the final scroll drying: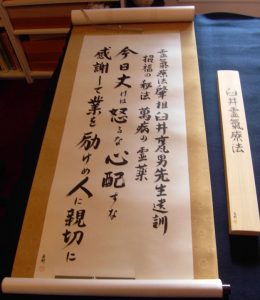 With the scroll completed it can take from 12-36 hours to naturally dry. The weather (mainly, the humidity) plays the largest factor. When the ink is completely dry the scroll can be rolled, tied and placed in its box.
Step 6) Packaging and Shipping
We always double box the scroll so it has its own protective box, padding material, and a sturdy mailing box. Most often we charge for shipping, though we do have free shipping specials from time-to-time, but we always include insurance at no extra cost.
Shipping is from the continental United States. Domestic orders using USPS Priority Mail take, on average, 1-3 business days to arrive. USPS Priority Express will arrive at all US destinations in 2 business days.
---
I hope you found this description of the process we use to create Custom Japanese Scrolls to be informative. We have been doing this for more than two decades now and have thousands of delighted customers. I hope you will take advantage of our special pricing and I look forward to working with you.
To discuss your custom Japanese scroll or if you have any questions please feel free to contact me. Or you can start your scroll by ordering:
Our Custom Japanese Scrolls are true works of art and make excellent gifts. If you have any questions or would like to discuss a custom scroll please contact us or email me directly at Eri@Takase.com I would love to work with you!