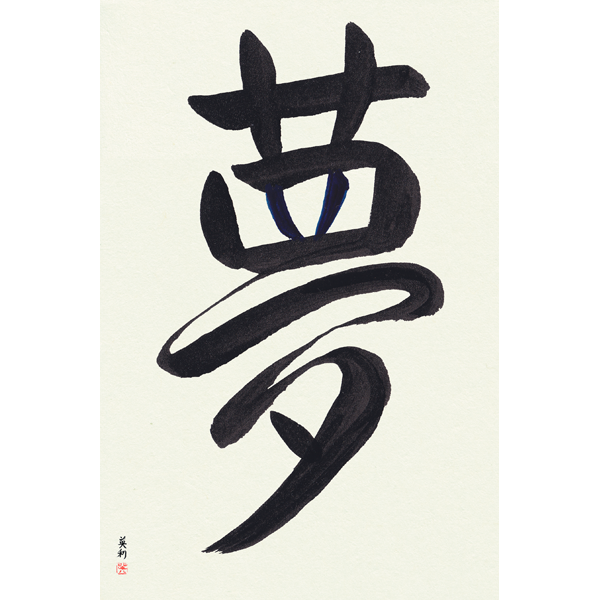 Custom Japanese Calligraphy

by Master Eri Takase
Welcome to Takase Studios
featuring the Japanese Calligraphy Art of Master Japanese Calligrapher Eri Takase.
Since Takase Studios opened in 1997, Master Takase has created thousands of beautiful works that have sold around the world as custom art for individuals, on commercial products, in books, magazines, and in film. Whether you are looking for Japanese art for your home, a gift, commercial art for your logo or ad or book, a seal design or focal art for your dojo, we have a large variety of personal and commercial services.
We offer Custom Art Unframed, Custom Art Framed, and Custom Japanese Scrolls if you are looking for Japanese calligraphy art that is truly unique. With your custom order, you will be working directly with Master Takase to create a personal work of art. Samples are emailed and with your feedback, changes are made until the art is exactly the way you want it. This is a rare opportunity to create an original gift or work of art that is exactly what you want.
For the Martial Artists, we offer Custom Seal Designs and Custom Martial Arts Japanese Calligraphy. We also have a selection of original Martial Arts Japanese Scrolls that make very thoughtful gifts for the Martial Artist in your life or for your Sensei or as focal art for your Dojo.
And be sure to check our Japanese Calligraphy Specials which offer one-of-a-kind, original works of art by Master Takase that will not be offered again.
For a limited time, we are offering FREE SHIPPING on all domestic US orders.
Visit our Japanese calligraphy Catalog with hundreds of original works of Japanese calligraphy art for sale. Each piece is personally brushed by Master Japanese Calligrapher Eri Takase. These are all original, signed works of art. And we are especially proud of our fine scrolls.
Custom Japanese Calligraphy
With a Custom Japanese Calligraphy from Takase Studios, your imagination is the limit. Work directly with Master Japanese Calligrapher Eri Takase to create a work of art that is exactly what you want.
With your custom order, you work directly with Master Takase to create a unique work of art that is tailored to you and your taste. We work with you on all aspects of the design including the translation, font, and layout. We do this by showing you preliminary samples via e-mail that we then discuss and change as needed. The samples are all personally hand-brushed by Master Calligrapher Eri Takase and are presented to you in Adobe PDF format so they will show and print just as Master Takase created them.
Takase Studios has both native English and native Japanese translators so you know the translation will be absolutely correct. Further, we provide you with dictionary references and work with you until you are completely comfortable with the translation.
By working together we will create a one of a kind work of art. The process is fun and informative. And we complete most work within a few days. Your final art is shipped from the beautiful state of Washington so packages arrive quickly.
Custom Japanese Scrolls Custom Japanese Calligraphy
Commercial Japanese Calligraphy
Master Takase's art is respected worldwide and many praise her for not only her beautiful art but also for her courtesy and professionalism. You have probably seen Master Takase's artwork in films, advertising, on products, in book illustrations, magazines, on music labels, in logos, on websites, and even in computer games. And Master Takase received international recognition for her calligraphy designs for TV Guide's 60th Emmy Awards After Party and was featured on NBC's Extra for her work.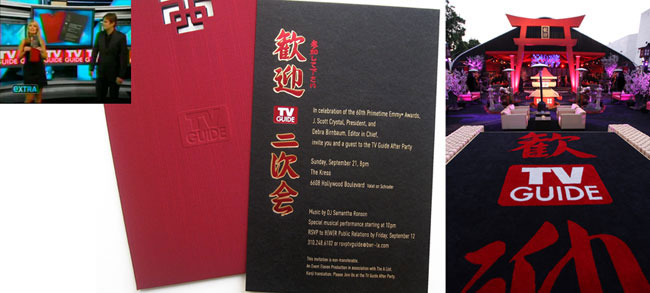 Shodo (書道 shodou), the Art of Japanese Writing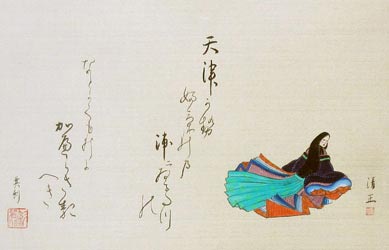 Japanese Calligraphy distinguished itself from Chinese Calligraphy in the Heian period (794 to 1185 AD) with the addition of kana. That is, Chinese Calligraphy only uses Chinese characters and modern Japanese Calligraphy uses Chinese Characters called kanji and the two syllabaries hiragana and katakana. Because of kana, Japanese Calligraphy has a distinct look. And in the hands of a Master Japanese Calligrapher, the art is sublime.
A beautiful example of Japanese Calligraphy using a cursive font is shown on the right. This particular example uses an archaic syllabary called hentaigana which was used in the Heian period. Hentai means "strange" and hentaigana is strange in that it is a mix of kanji and an early form of hiragana. If you are interested in learning more, please do check out the art as we go to great lengths to fully document each piece. In this example, we include the original Japanese, the modern Japanese, the reading, the English translation, and an independent reference.
You will see that we go to great lengths to document and explain each piece. We want you to be as happy with the translation and meaning as you are with the beautiful calligraphy itself.
And this is just one of the many original works of Japanese Calligraphy art that are for sale in our Japanese Calligraphy Specials.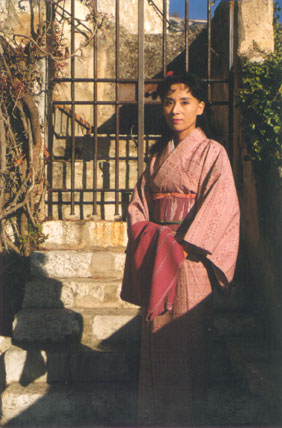 Master Eri Takase at Gallery Opening
Eze, France
In 1989, Master Eri Takase was awarded the highest rank in Japanese Calligraphy of Shihan. As a member of Japan's most prestigious professional calligraphic society, the Bokuteki-kai, Eri Takase is among the few to have won multiple best of category awards in national competitions and her work has been displayed in the Osaka Museum of Art. You can view some of her award-winning art at Traditional Japanese Calligraphy.
You will find in working with Master Takase that she is prompt, informative, and patient. Master Takase's Japanese calligraphy style is described as refined and cultured. And Master Takase herself is praised not only for her beautiful art but also for her courtesy and professionalism.
As you view Master Takase's Japanese Calligraphy art, remember each piece is an original and personally created by Master Takase herself. We do not sell prints. Here you will only find original, authentic Japanese Calligraphy art.
So please, take a look around. We have many beautiful examples of art for sale in our Japanese Calligraphy Shop. We are especially proud of our Japanese scrolls. We also have one-of-a-kind works of art in our Specials Shop. And if you are looking for something truly personal, we offer completely custom Japanese calligraphy art in our Custom Shop.
We also have many informative articles in our Library including several interviews with Master Takase.
If you have any questions, or would like to discuss an idea, please use the Contact Us page or email us at Eri@Takase.com.