Your Custom Japanese Tattoo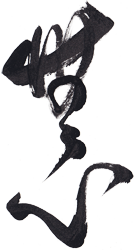 Our secret at Takase Studios is simple, we work with you until the design is perfect. There are no hidden fees, no fine print. We really want you to have a great experience and a great custom Japanese tattoo and so we work hard to make everything just right.
To begin, we need to know roughly the size you want the tattoo to be and what you would like your tattoo to express. In most cases, the Less than 5″ option is sufficient. And if you need it a bit larger, your tattoo artist can often resize the design when the stencil is made. Order the larger designs only when there are a lot of characters or a lot of detail. If in doubt, order the default less than five inches (12.7 cm) size.
Once we have your order, we will then create several options for the translation and several designs showing different fonts and layouts. These hand-lettered designs by Master Takase are then scanned, documented and emailed to you. We also include detailed explanations and links to online Japanese dictionaries and other independent resources when appropriate. We are happy to provide you with as much information as you need to be completely confident with the translation.
You can then examine the designs at your leisure and decide which samples you like. Based on your feedback, we create the next set of designs. And we continue in this fashion, you and Master Takase working together, until the design is exactly the way you want it.
This design process is fun, informative and normally takes two or three sample sets to arrive at the perfect design.
For a specific example see Custom Design Process where we show the designs and actual communications used to achieve a final design. This is a great example of the process we would use with you to create your custom Japanese tattoo design.
Should you have any questions, please feel free to contact us or email us directly at Eri@Takase.com.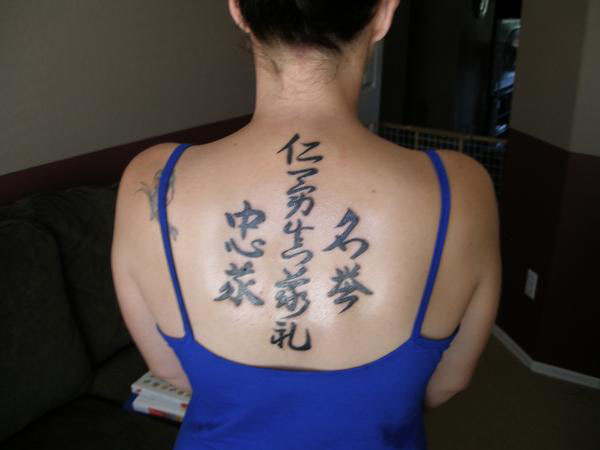 Translations You Can Trust We take great care in making sure that the designs we create are absolutely correct and we are happy to provide you with as much supporting material as you need to be completely confident with the translation.Takase Studios has both a native English speaking translator and a native Japanese translator. This way we are sure to understand the nuance and the context of the English and are able to render this in Japanese as close as possible.
We also have an extensive library and lists of online resources and are able to locate original Japanese quotes, poems, and sayings. So whether looking for original text in the Japanese National Archives or choosing the most suitable translation from our five different Japanese Bibles, whenever it exists we get the authoritative source for the translation.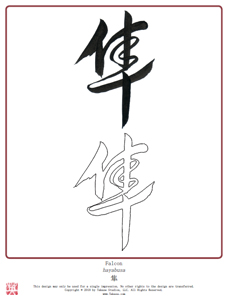 Tips For Your Perfect Custom Japanese Tattoo
Here we talk about what to look for in a final design and a few important points to consider before you have the design inked.
Our final designs include all you need to get your tattoo inked. On the right is an actual final tattoo design. Click on the image see the actual Adobe PDF and try printing it out. And, as you read along, notice that our final designs address all these points.
1) The final design must print accurately You want the design in a format that you can print and it will look exactly the way the artist created it. We use the Adobe PDF format which works on almost all hardware and is probably already on your computer. If not, you can download it for free from Adobe.
Final designs in JPG, GIF and many other formats print differently on different hardware and so are not satisfactory.
2) The final design must have the line art The line art is an outline of the design that your tattoo artist will use to make the actual stencil that will be applied to your skin. With the line art on your skin, your tattoo artist will then refer to the art to accurately ink the nuances of the design.
We strongly recommend that your tattoo artist not free-hand the design, but use the line art.
Both the final art and line art should be high-resolution images in case they need to be resized. Ideally, as we do, the line art should be vectorized so it will look good regardless of size.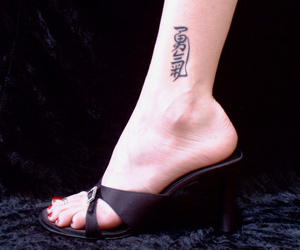 3) The final design must include documentation You want to make sure that the design is well documented. Over the years, if you have questions about the design you want to be sure you have all the details handy in one place. This includes the English, the Japanese reading, and the Japanese. And make sure the design includes how to contact the calligrapher!
Remember that over the years the tattoo will need to be re-inked. We have been doing this so long now that we get many requests for the originals – which fortunately we keep for our clients. However, to be sure it is best to have your own original for safekeeping.
4) Discuss the final design with your tattoo artist We always recommend discussing the tattoo design with your tattoo artist before your inking session. Here your tattoo artist will examine the design and discuss the placement. Issues may arise if there is not enough white space in the design in which case your tattoo artist may ask for adjustments. And these adjustments should be made by your calligrapher, not your tattoo artist. So make sure that you can go back to your calligrapher to have any needed adjustments made.
This issue rarely comes up for us and usually happens when the client wants the design significantly smaller than originally designed. In this case, adjustments may need to be made such as making the lines thinner.
Regardless of the reason, it is important that your calligrapher will make adjustments to the final design and that your calligrapher always defers to your tattoo artist. And for you, it is important that your calligrapher does not charge extra for this!
At Takase Studios, we have worked with thousands of tattoo artists from all over the world. And, while we rarely have issues, we always defer to the tattoo artist and always make the adjustments with no charge. Of course.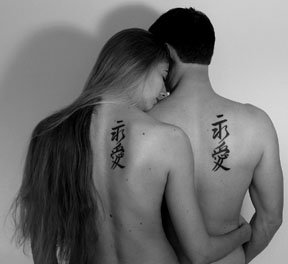 "Eternal Love"
A special thanks to Anke and Torsten for sharing this photo
Calligraphy based Body Art Designs require mastery of the art as well as accuracy and attention to detail. You need to be able to interact with the artist at every level to ensure the accuracy and appropriateness of the design. We take great pride in providing you with all the information and feedback you need to ensure that you are getting a design that is just right for you.
We work with you on each step of the design and give you the personal attention you need so you will be completely comfortable and confident with your new Japanese tattoo.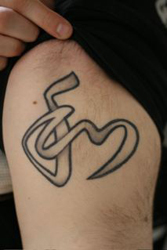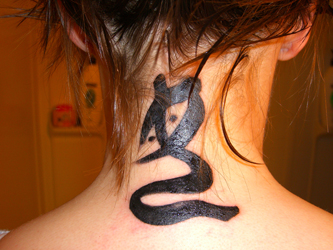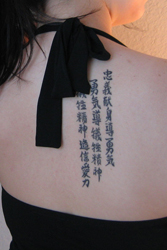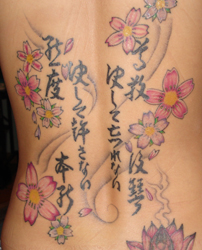 Should you have any questions, please feel free to contact us or email us directly at Eri@Takase.com.