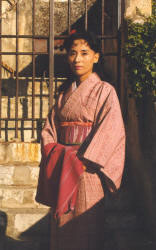 Born and raised in Osaka Japan, Eri Takase trained in traditional Japanese calligraphy since the age of six devoting much of her life to the art. After winning multiple best of category awards in all Japan national competitions and having had her work displayed in the Osaka Museum of Art, in 1989 Master Calligrapher Eri Takase was awarded the rank of Shihan, the highest rank in Japanese Calligraphy, by the Bokuteki-kai which is one of Japan's most prestigious calligraphic societies. This special rank bestowed many privileges including the right for her to develop her own original calligraphic style and to open her own school to teach this style. Master Takase's unique calligraphic style is easily recognizable and has been described as refined and cultured. To view some of this award winning art, please visit Traditional Japanese Calligraphy
Since 1995 Master Takase has been living and working in the United States and after having spent many years in the beautiful states of Virginia, Florida, and Hawaii has settled into a small studio in the beautiful state of Washington. Here Master Takase is continuing to devote herself to adapting the art of Japanese Calligraphy to new mediums and methods.
Master Takase was once quoted as saying "Japanese Calligraphy is too beautiful a bird to be locked in the cage of tradition". Though, to not be misunderstood, is quick to add the saying onkochishin (respect the old, then create the new). In this fashion, she has worked with mixed media and Western-style framing, acrylics and modern works using watercolors and Western paper. And the results are breathtaking.