Learn Japanese Calligraphy

Learn Japanese Calligraphy Lessons 1 – 6 by Eri Takase
The Learn Japanese Calligraphy Series by Eri Takase is a complete Japanese Calligraphy course on CD-ROMs. With these CD's you can learn Japanese Calligraphy by actually seeing the characters being brushed by Master Japanese Calligrapher Eri Takase. Japanese Calligraphy is all about movement and you simply cannot learn the proper movement from a book. These CD lessons show videos of Master Takase brushing the characters and gives a detailed, point-by-point explanations. You can also print out samples with the stroke order and direction for practicing yourself – With these CD's you will be learning proper technique from a Master Japanese Calligrapher.
The first CD includes topics on tool selection, posture, how to hold the brush as well as the basic strokes of the block font. Each lesson covers the stroke order with examples that can be printed and used for practice. We also show common student errors and corrections.
Order On-line!
Order your CD Lessons and Calligraphy Supplies at:

Founded by Master Calligrapher Eri Takase, Takase Shodokai offers authentic courses in Japanese Calligraphy.
While it is better to be able to sit down with an instructor, this is not always possible or practical. And if you are fortunate enough to have an instructor, sometimes more detailed information is needed. To this end, we have developed an extensive Japanese Calligraphy course for both self-study and to supplement current studies.
The word Shodokai in kanji is 書道会 (read shodoukai) and means "Calligraphy Group". Shodo in kanji is 書道 and directly translates to "the way of writing" and means "calligraphy" and specifically Japanese Calligraphy. kai in kanji is 会 and means "group" or "club".
Japanese Calligraphy (called Shodo) is all about movement and movement simply cannot be taught in a book. This is why we offer our unique courses on CD-ROM. Each CD in the series shows detailed explanations, stroke order, and frame by frame analysis and there are over thirty videos showing proper technique for brushing the character.
Calligraphy terms and proper pronunciation are also introduced, though knowledge of Japanese is not required. At the click of a mouse, one can actually hear the proper pronunciation.
Along with the correct way to brush the character, student samples and videos are also shown with corrections and explanations. By showing both right and wrong technique one learns what is correct and how to fix what is not.
Learn Japanese Calligraphy on CD-ROM
The Takase Shodokai Learn Japanese Calligraphy Series on CD-ROM provides the in-depth instruction needed to master Japanese Calligraphy.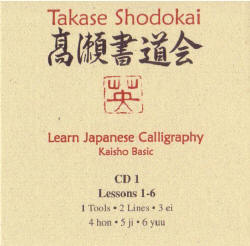 The first CD-ROM starts with tool selection and proper usage. Takase Sensei then guides the student through the basic strokes of the Kaisho script by using a combination of text, sample works, audio, video and frame-by-frame analysis. Following this several important characters are covered in detail offering more practice with the basic strokes.
The CD-ROM series is supported on all platforms which include Microsoft Windows, Apple, and Linux. All instruction is in English and does not require knowledge of Japanese.
By using a multi-media approach, Takase Sensei is able to teach Japanese Calligraphy in a way that is not possible through books alone. Being able to see the rhythm of the brush along with proper hand position and posture is essential to learning good technique and each CD contains over thirty videos and hundreds of photos.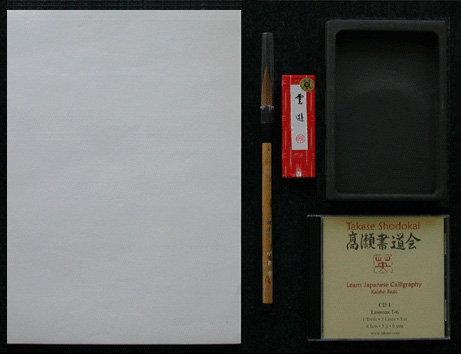 Each lesson introduces one or more characters along with the usage, pronunciation, and a word list. The calligraphic aspects of the character are shown in detail including a printable sample and an annotated version showing the stroke order and proper brush movement.
A video showing Takase Sensei brushing the character demonstrates proper brush movement, hand position, and technique. Following the video, every aspect of brushing the character is discussed in a frame-by-frame analysis of the video.
Takase Sensei also presents sample student works along with a detailed critique and corrections. Being able to see the mistakes and corrections of other student's work shows what is considered wrong, why it is wrong, and how the fault can be corrected.
Learn Japanese Calligraphy – Order Today