Takase Studios is devoted to
Custom Japanese Calligraphy
. Here you can work directly with Master Japanese Calligrapher Eri Takase and create original art tailored to fit your exact needs. Whether you are looking for a special gift (perhaps for a wedding, an anniversary or a housewarming) or artwork for your home, office or dojo we would love to work with you. Or if you are looking for ideas, we have great suggestions at
Japanese Calligraphy Gift Ideas
.
Master Takase's art is respected worldwide and many praise her for not only her beautiful art but also for her approachability, courtesy, and professionalism. You have probably seen Master Takase's artwork in films, advertising, on products, in book illustrations, magazines, on music CD's, in logos, on websites, and even in computer games. And Master Takase received international recognition for her calligraphy designs for TV Guide's 60th Emmy Awards After Party and was featured on NBC's Extra for her work.
If you are looking for Japanese Calligraphy to use in a commercial design like the TV Guide After Party above, visit Commercial Japanese Calligraphy for pricing and details.
Master Takase is always working with new mediums and creating new and beautiful works. To view and purchase Master Takase's newest pieces visit Takase Studios Specials.
And we do offer a wide variety of Japanese Calligraphy Services including custom seal designs, martial art certificates, custom scrolls, and custom tattoo designs. Please take a look around, and if you have any questions or are looking for something extra special, please contact us or email Master Takase directly at Eri@Takase.com. We would love to work with you.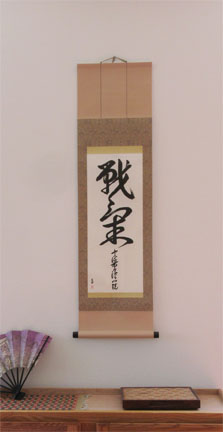 Custom Japanese Scroll
12 1/4″ W x 43″ H
$220
Order
Master Takase's work has been described as refined and cultured and she has been praised not only for her beautiful art but also for her approachability, courtesy, and professionalism.
We have a fun and informative process where we show you examples, get your feedback, make new samples and continue until the art is exactly the way you want it.
You will be working directly with Master Takase who will answer your questions and offer ideas and options. We want you will be as happy with the translation as you will be with the beautiful art.